Apr.25, 2023
Alango's VoiceDefender™ passes TEAMS on the new Bang & Olufsen Beocom Portal Headphones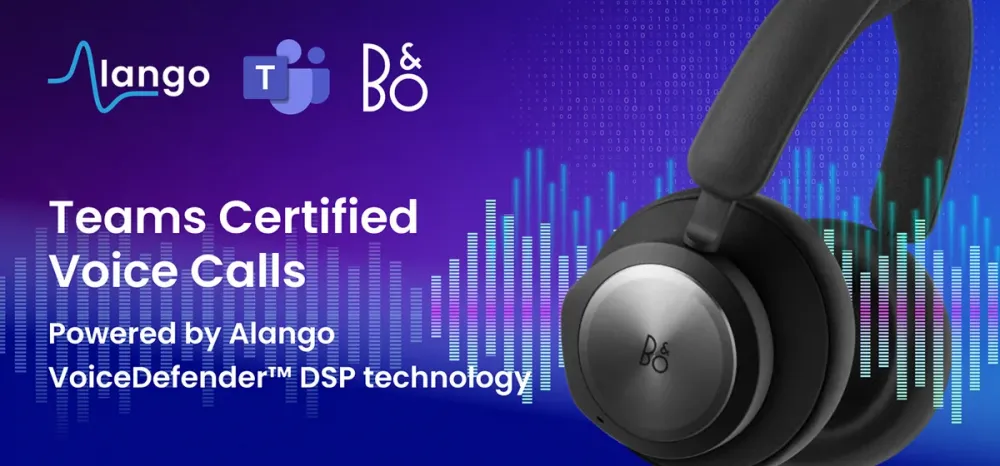 Hardware and premium software technology combination allows rapid development of full-featured, high-performance, headphone with pristine call quality.
Tirat Carmel, April 25, 2023 - Alango Technologies, a leading voice enhancement technology provider, announces that its VoiceDefender™ has passed the TEAMS certification on the all-new Bang & Olufsen Beocom Portal headphones.
These premium headphones are replete with impressive features like active noise cancellation, voice assistant integration, and low latency streaming. And Alango's VoiceDefender provides pristine call quality even in noisy environments. The Beocom Portal delivers crystal clear sound whenever & wherever you work; from your desk, home or traveling.
With VoiceDefender, enjoy hands-free communication that's protected from ambient noise through the use of microphone beamforming on four signals with a combination of end-fire and broadside beamforming. This complete solution includes echo cancellation, multi-microphone noise suppression, wind noise reduction, equalization, and gains management technologies.
"Boom microphones are great, but not always suitable for every headphone design," says Dr. Alexander Goldin, CEO of Alango Technologies. "VoiceDefender provides clear voice transmission for boomless headphone designs and we're thrilled it has been included in the latest Beocom line by Bang & Olufsen and passed the TEAMS certification."
Headquartered in Israel, Alango Technologies is a leading provider of digital signal processing technologies for speech, hearing and audio applications. Companies use Alango's software in a wide range of devices, hands-free car kits, conference systems and speakerphones, Bluetooth headsets and TWS earbuds, hearing enhancement and assistive listening products, as well as smart speakers and other voice-controlled devices. Alango's innovative technology passes rigorous certification standards in even the most demanding and noisy environments. Alango supports its customers at all stages, from product design to the start of mass production and beyond. More information on Alango can be found at: www.alango.com.
Contact: Robert Schrager, Director of Sales and Marketing, Alango Technologies Ltd. +972 (4) 858 0748, robert.schrager@alango.com
---