The same question is asked for smart watches, smart glasses, and wireless earbuds. How do we ensure that the user is heard clearly, during a hands-free call, given the device design and use cases? Alango has been involved with several use case scenarios and form-factors. Now our long history of pre/post processing solutions is being applied to the emerging wearable and hearable markets.
Alango is actively working on Voice Enhancement for smartwatches. Our demonstration of dual microphone noise reduction in smartwatches shows "Dick Tracey" functionality. When we were children we dreamed of having a watch-telephone. That dream is now a reality. Alango's Adaptive Directional Microphone solution for smartwatch adapts to the changing direction of the users voice maintaining intelligibility even in a noisy environment.
True wireless earbud designs are proliferating. The next generation of these devices will add hands-free calling. To allow clear voice communication from very noisy environments, Alango is working on a solution combining signals from in-ear and external microphones implementing an intelligent, adaptive to environment, sub-band mixer technology.
Alango has the know-how and has implemented optimal voice enhancement in a wide range of devices. Whether it is smartwatch, smart glasses, or a hearable we are looking forward to hearing from you!
| | |
| --- | --- |
| Adaptive Directional Microphone (ADM) | Two or more microphones in the device are positioned to adaptively discriminate between speech and noise utilizing Alango's beamforming algorithms. |
| Acoustic Echo Canceller (AEC) | Eliminates acoustic echo with multi-band residual echo suppressor ensuring full-duplex communication. |
| Noise Suppressor (NS) | Detects and attenuates stationary and transient noises (traffic, engine, passing cars, etc.) in transmitted and received signals. |
| Automatic Gain Control (AGC) and Dynamic Range Compressor (DRC) | Equalizes voice levels in the microphone and loudspeaker signals ensuring clear intelligibility. Alango AGC technology is robust to ambient noises and allows fast signal equalization without increasing ambient noises. |
| Frequency Equalizer (EQ) | Allows fine frequency adjustment of microphone and loudspeaker frequency responses with high frequency resolution. |
| EasyListen™ | Slows down incoming speech in real time improving intelligibility of fast talkers, foreign language, mailbox and numbers. |
| Automatic Volume & Equalization (AVQ) | Modifies the loudspeaker signal according to the ambient noise level and spectrum providing perceptually equal loudness and intelligibility in dynamically changing conditions (street, bus, train, etc.). |
| Packet Loss Concealment (PLC) | PLC is a technique used to mask the effects of lost or discarded packets. The objective of PLC is to reconstruct a synthetic signal to cover missing data in a received bit stream and thus hide transmission losses. |
Optimal usage of available resources and minimal power consumption.
Adaptable to a multitude of different designs.
Ported to all major computational platforms.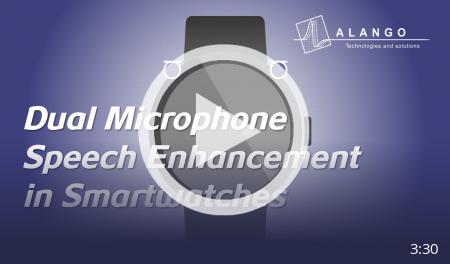 Watch this video on Alango Youtube Channel