Alango's Voice Processing Module is a hardware module that is an efficient and cost effective add-on solution for acoustic echo cancellation, noise reduction and other signal processing tasks.
Application examples:
Intercoms (residential, industrial, drive-in, others)
USB sound card with DSP voice enhancement
Advertising screens with automatic volume control
Custom voice communication systems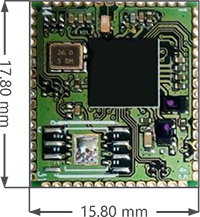 Voice Processing Module, 17.8x15.8x1.8mm
VPM is a hardware DSP module based on CSR8675 SOC IC including 80MHz RISC application processor (MCU), ultra-low-power 120 MIPS DSP, embedded flash memory, a high-performance stereo codec, a power management subsystem, Bluetooth radio and more.
The Voice Processing Module (VPM) integrates Alango Voice Communication Package (VCP) of software technologies performing digital signal processing of the input signals. The figure below illustrates VCP processing blocks on the transmit (Tx) and receive (Rx) paths as well as control and logging functionality. Analog-to-digital and digital-to-analog converters are omitted for simplicity.

The following processing tasks are currently supported by VCP integrated into VPM firmware:
Acoustic Echo Cancellation (AEC): Cancels acoustic echo caused by the speaker and microphone proximity
Noise Suppression (NS): Reduces stationary and transient noises improving the perceptual and objective voice signal quality
Equalizer (EQ): Performs frequency equalization of Rx, Tx signals improving their perceptual quality; operates in 32Hz frequency resolution
Automatic Gain Control (AGC) and Dynamic Range Compressor (DRC): reduces variations in signal level
Noise Dependent Volume Control (NDVC): changes the loudspeaker volume according to the ambient noise. Automatically solves the dilemma of "too loud in quiet vs. too soft in noise".
Double Talk Gain Control (DTGC): improves double talk performance by slightly reducing Rx gain when near talk is detected.
Dual-microphone beam-forming (optional, with digital microphones only): creates directional or noise cancelling microphone using only two omni-directional microphones.
EasyListen™ (optional): slows speech in real time to better understand fast-talkers and foreign languages.
The VPM EVB allows designers to tune, evaluate and test all functionalities of the module. The VPM EVB is easy to use and includes all the basic necessary hardware, making it a perfect tool for rapid evaluation and prototyping while shortening time-to-market.
The EVB and accompanying kit enables real-time monitoring of the digital input and output audio streams within the DSP and allows setting VCP parameters on the fly for tuning VCP processing. Hence, all necessary hardware and software is included to modify and optimize the embedded DSP software for the target acoustic system to achieve the best voice quality.