Nov.22, 2021
BeHear SMARTO
The newly released Alango BeHear SMARTO has won the 2021 Hearing Technology Innovator Awards™ in the Personal Listening Device category. SMARTO is a personal hearing amplifier...
Read the full article >>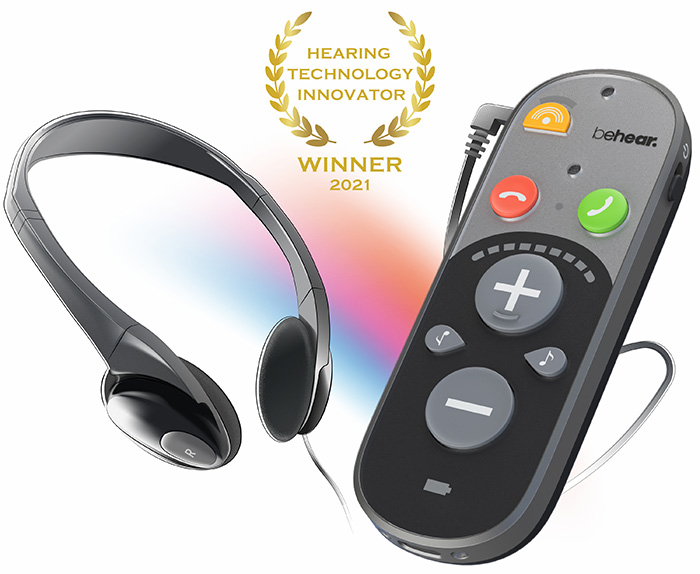 ---
Sep.2, 2021
Listen Now: Alango Deep Neural Network-based Noise Suppression
Separating noise from speech is a core part of what we do at Alango and we never stop looking for ways to make it even better. Classical DSP-based noise reduction (which can be found in our current-gen voice communication solutions, VCP and eVCP) is an efficient, tried-and-true method for removing noise from speech, applicable to a broad set of device types and call environments...
Read the full article >>

---
Sep.2, 2021
VCP & OnlyVoice now available on Knowles Dev kit
Available now for TWS OEMs: Alango's Voice Communication Package (VCP), with multi-microphone beamforming, and Alango OnlyVoice technology, which intelligently combines external beamforming with internal sensor-based voice processing, have both been ported to the Knowles IA8201 processor...
Read the full article >>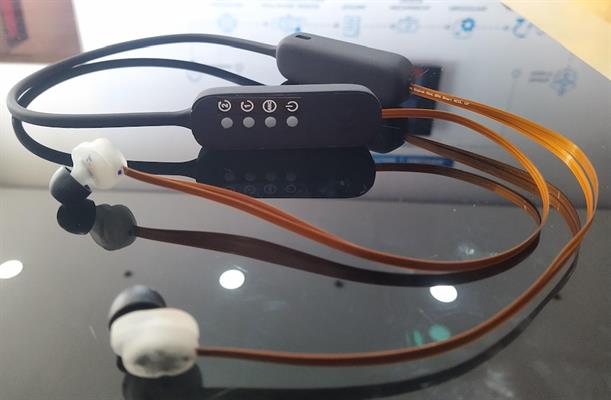 ---
Jul.7, 2021
Alango Hearing Enhancement tech now a licensable package
Alango Company Newsletter
Headset OEMs Can Now License Alango's Hearing Enhancement Technology
Alango's Hearing Enhancement Package (HEP) offers consumer-tested, field-proven personalized hearing amplification technology to power the coming wave of hearable devices.

This software suite grants users the ability to easily custom fit and fine-tune the hearing amplification in minutes with a one-time, self-administered hearing assessment. Once fitting is complete, all sounds are personalized according to the user's hearing profile—including live sounds, streamed audio, and mobile phone calls.
ALPEQO Lite Software Now Free for Commercial Use
Shown here: ALPEQO Lite computes optimum filter parameters for frequency response magnitude correction (~3 seconds)


Read (PDF): ALPEQO Lite User Guide
Stuck manually correcting loudspeaker frequency response on the production line? Alango Parametric EQ Optimization Tool (ALPEQO for short) enables the rapid computation of optimal digital filter parameters for loudspeaker frequency response correction. When ALPEQO is integrated into the manufacturing quality control process, it allows for efficient, automated correction of each individual production device to within target limits.
We've made ALPEQO Lite available free for commercial use, limited to one sample at a time but otherwise fully functional.

If you wish to fully automate ALPEQO within your production or QC process, please contact Alango about licensing ALPEQO Professional.
DSP Group and Alango Announce Availability of the Extended Voice Communication Package on the DBMD7 SmartVoice Processor
DSP Group, Inc. (NASDAQ: DSPG), a leading global provider of wireless and voice-processing chipset solutions for converged communications, and Alango Technologies, a leading developer and licensor of front-end voice enhancement technologies, today announced the availability of Alango's Extended Voice Communication Package (eVCP) on DSP Group's DBMD7 SmartVoice processor. The combination allows providers of high-performance voice conferencing systems to quickly develop solutions for a rapidly evolving unified communications market that demands the best in voice clarity and system flexibility.
As always, we look forward to hearing from you!
---
May.6, 2021
Qualcomm QCC 514X update: 3 voice technologies to supercharge your next product
Alango Company Newsletter
Alango OnlyVoice™ Technology Ported onto Qualcomm® QCC5141, Available Now
Designers of Bluetooth earbuds and hearables using the Qualcomm® QCC5141—a premium low-power voice-enabled audio chip—can now offer end-customers improved voice clarity in noisy or windy environments by way of Alango's OnlyVoice: an advanced voice acquisition technology relying on sensor fusion technology for devices incorporating acoustic microphones and a vibration sensor.
Available soon on QCC5141:
4 mic VoiceDefender
for over-ear/OTH headphones
Uniquely developed for headphones in over-ear/over-the-head form factors, VoiceDefender enables breakthrough voice clarity using a 2x2 mic configuration (two mics per earcup). Stay tuned - we expect to release the QCC514X port later this year.
Enhance your customers' watching and listening experience with VoiceFirst technology
Reduce loud sound effects and enhance the voice within TV and movie audio

Forty-five percent of all surveyed Bluetooth headphone users report using their headphones to watch TV, movies, or videos, according to Qualcomm's State of Play Report (link). Given the popularity of these devices for video watching, we're excited to announce that VoiceFirst--a technology that enhances the voice content in videos by de-emphasizing background sounds--is available now on QCC514X. Ideal for headphones, earbuds, soundbars, and TVs, VoiceFirst helps users to hear and understand dialogue without them having to raise the volume to unsafe levels.

Watch the demo video here: http://alango.com/voicefirst.php#Video
As always, we look forward to hearing from you!
---
Mar.16, 2021
Focus on Automotive Voice Technologies
We've got something for you in this issue whether True Wireless Stereo is your true calling or Automotive Audio is more your speed.
How can technology help us to improve the in-car voice communication experience?
On a typical drive, you'll notice that
automotive cabin noise
comes from multiple sources:
the sound of the

tires on the road

the

engine and fans

the internal climate control or

HVAC system

wind noise from an

open window

and external weather such as

wind and rain.
The difficulty in obtaining a clear, intelligible voice signal from the driver is deepened further by the strong
acoustic echo
that comes from multiple loudspeakers. No doubt, the car is a challenging environment for voice communication.
And not just for handsfree calls, either.
So too, can human-to-machine communication (with a voice interface) and human-to-human communication (with rear seat passengers) be made frustratingly difficult by these acoustic conditions.
Read on to discover Alango's vision for technology-enhanced voice communication inside the car.
Read the full article >>
---
Jan.20, 2021
Enhance the dialogue in movies, TV shows, and sports broadcasts with Alango VoiceFirst™ Technology
Movies immerse the viewer in a visual and auditory experience. Often, these elements compete rather than complement each other. Our ears are bombarded with music and sound effects that obscure the voices of the people on-screen. And it is the voice that matters most to our perception of a movie. Voice comes first.
Read the full article >>
---
Jul.19, 2020
TV dialogue too-quick-to-catch? Alango EasyWatch dynamically slows down fast speech segments while keeping video in sync; try it yourself with the EasyWatch Player
Do you like watching movies? How about TV shows, talk shows, or debates? Have you ever felt that you were missing some of the dialogue because people were speaking too quickly? Alango EasyWatch™ technology can help!
Read the full article >>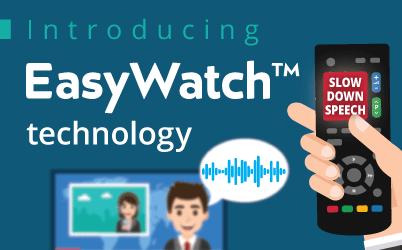 ---
Jun.29, 2020
Introducing eVCP: Extended Voice Communication Package with Intelligent Mixer for distributed mic systems
Alango's Extended Voice Communication Package (eVCP) was developed to enable hands-free voice communication in distributed-microphone systems...
Read the full article >>
---
Mar.3, 2020
Alango Introduces Short Range Sound Modem (SRSM) Technology
Alango SRSM technology allows for transferring arbitrary digital data, over-the-air, to a device via a narrow-band voice...
Read the full article >>
---
Feb.11, 2020
Sound Reinforcement Package now available on the Analog Devices ADSP-2156x processor
The ADSP-2156x series of processors provide immersive audio and sound experience in automotive and consumer/pro-audio applications. Alango cooperated with Analog Devices to demonstrate a successful early stage porting of Alango Sound Reinforcement Package (SRP) at CES2020. . .
Read the full article >>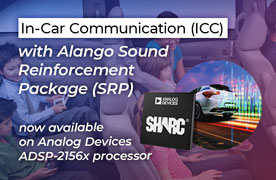 ---
Jan.13, 2020
Alango Technologies at CES 2020
CES 2020 in Photos. Jan. 7-10, 2020. Sands Expo, Las Vegas, NV.
Read the full article >>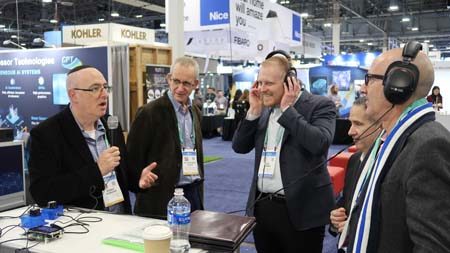 ---
Dec.22, 2019
Alango OnlyVoice™ Technology Preserves Clear Voice
Hands-free communication via headphones is convenient, but only if the person on the other end of the call — or the voice assistant — hears and understands what's communicated, even when speech originates from a noisy environment. . .
Read the full article >>
---
Nov.17, 2019
Alango Far-Field Voice Enhancement Package is now available on NXP i.MX RT600 processor
Alango cooperated with NXP and Cadence to demonstrate an early stage porting of Alango Voice Enhancement Package (VEP) at CDNLive in Taiwan on August 13 of this year. This porting fully complies with NXP Xtensa Audio Framework (XAF)...
Read the full article >>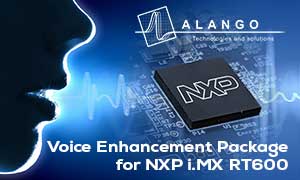 ---
Jun.23, 2019
Alango's Technologies are now available on STMicroelectronics STM32 MCU
Alango now offers many of its technologies on the STM32F7 Arm Cortex-M7 microcontroller, including...
Read the full article >>
---
Jun.18, 2019
Alango featured on ARM Community Processors Blog
Read the full post here: https://community.arm.com/developer/ip-products/processors/b/processors-ip-blog/posts/how-to-implement-voice-and-audio-processing-on-arm-with-alango-technologies
Read the full article >>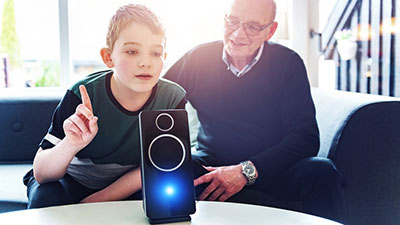 ---
Mar.1, 2019
Alango Technologies at MWC Barcelona 2019
Alango MWC exhibit at Cadence booth in photos.
Read the full article >>
---
Jan.21, 2019
Alango Technologies at Automotive World Japan 2019
Alango at Automotive World Japan 2019 - Photos
Read the full article >>
---
Jan.14, 2019
Alango Technologies at CES 2019
CES 2019 in Photos. Jan.8-11, Sands Expo, Las Vegas, NV.
Read the full article >>
---
Apr.30, 2018
Alango Technologies at AAA 2018
AAA 2018 | April 18-21 | Nashville, TN | #AAAConf18. Alango Technologies was demonstrating its Wear & Hear line of personal hearing products including BeHear® NOW...
Read the full article >>
---
Apr.26, 2018
Alango @ CDM Live EMEA 2018
We are honored to take part in the event that brings together Cadence® technology users, developers, and industry experts for networking, sharing best practices on critical design and verification issues, and discovering new techniques for designing advanced silicon, SoCs, and systems. We will discuss the reasons to use dedicated DSP cores in the IoT and the Automotive SOCs...
Read the full article >>
---
Mar.8, 2018
Alango Technologies at #MWC18
Photos & video from Mobile World Congress 2018, Feb.28-Mar.1, Fira Barcelona Gran Via.
Read the full article >>
---
Jan.28, 2018
1D VEP – Linear Microphone Array
A new linear microphone array iteration of Alango's Voice Enhancement Package (VEP), which functions as an ASR pre-processor, has been released. The previous iteration of VEP – utilizing 2D microphone array beamforming - targets smart speaker applications. The new "1D VEP", typically with 4 or more microphones positioned in one line, includes stereo acoustic echo cancellation and far-field beamforming – with auxiliary tools for direction extrapolation. 1D VEP is particularly suitable for implementation in a voice controlled TV, especially since the geometry of a TV does not typically lend itself to accommodate placement of a 2D microphone array.
Read the full article >>
---
Aug.7, 2017
Sound Processing in Smart Home Devices – The System Approach
Speech, as the most natural way we express ourselves, has tremendous potential as a method of human-machine interface. Speech recognition technologies have improved significantly but are still dependent on factors that influence the signal to "noise" ratio...
Read the full article >>
---
Feb.23, 2017
Alango Technolohies presents Wear & Hear line
To address the needs of the huge potential market of over 700 million hearing impaired users worldwide, Alango Technologies, Ltd., a leading supplier of voice and audio enhancement technologies for the communication and entertainment markets, launched its "Wear & Hear" line of personalized hearing products. The Wear & Hear line provides an alternative to hearing aids, which are used by less than 10% of those who need hearing assistance worldwide due to a combination of high prices, limited functionality, and associated stigma.
Read the full article >>
---
Jan.24, 2017
Our Posts
We recently added a section to our website called "Our Posts". This is a place for members of Alango to express what is on our mind with regard to the technology we provide to the world. "Our Posts" are typically informal. Sometimes we provide cultural or personal anecdotes with historic undertones that relate in some way to our technology. Other times we discuss important developments in the industry or even key regulatory issues that represent a significant change in the world of voice, hearing, or audio. Alango's slogan is "DSP Technologies for Life" because the technologies we supply enhance communications enriching the human experience. This is a way of life for us and maybe you too. So please take a look at our posts and feel free to send a comment.
---
Dec.14, 2008
AVQ-Me™
Alango's unique Automatic Volume and eQualization for Music and Entertainment (AVQ-Me™) technology is now availabel for headsets based on BlueCore5 Multimedia. Enjoying music in a mobile environment is often spoiled by strong, dynamically changing ambient noises. Volume and equalizer settings optimal for specific conditions quickly become not optimal or even uncomfortable. Trains, subway, buses are just a few examples of such dynamic environments. AVQ-Me™ technology significantly enhances mobile listener's experience by automatic compensation for changes in the ambient noise level and spectrum. The built-in microphone of a stereo headset is used to monitor the ambient noise conditions and the audio signal is amplified and equalized accordingly. You don't need to touch the sound controls again!
---